Advanced 1-2-1 training & mentoring for Qualified Artists
Are you a Permanent Makeup artist who is looking for additional support and to advance your techniques?
Emily Ponte is a highly successful artist and has gained a great reputation amongst her peers. Emily is extremely supportive with fellow artists, so much so she was in the top 3, for Most Supportive Artist 2020.
Along with over 23 years in the beauty industry, Emily has over 7 years experience as a PMU artist and has spent many years training with the worlds most sought after trainers, gaining a wealth of knowledge along the way, which has helped her in developing her own unique teaching style.
Emily has created her own world renowned trademarked technique The BrowBlend®, and her online webinar has proved extremely successful. Emily now offers 1-2-1 training to learn this unique style of brow, along with other advanced techniques for Lips or Eyeliner.
Emily will personalise the course to suit your needs and help you improve on the areas you need the most help with. The purpose of these training days are to help you overcome any issues you may be incurring since qualifying.
What will the course cover?
Latex & Pencil Drawing Practice
Live Demonstration
Model Practice (provided for you or can bring your own)
Advice on Needles, Pigments & Machines
How to take a good photo
Social Media Marketing
Certificate upon completion
Ongoing support
Bonus Pre-Study – Receive BrowBlend® Webinar Free with Lifetime Access
1-2-1 Training Costs
£695 (1 day)
£1,390 (2 days, to cover different techniques)
£1,800 (3 days)
We can bespoke the days depending on the areas you with to cover. These can include BrowBlend®, Powder Brows, Lips, Eyeliner.
If more then 1 student would like to attend a training day, a discounted price of £500 per person, per day will apply. Maximum 3 students.
Please bring your own machine however Emily will have various machines and needles to try.
A £250 deposit per day is required to secure your training day. Once a suitable date has been confirmed you can pay deposit via the link below.
For more information or to find an available date please contact Emily on info@emilyponte.com
Once you have confirmed with Emily what areas you wish to cover and chosen the relevant date(s), please choose an option below to pay your non-refundable deposit. A confirmation email will be sent to you, to secure your training dates.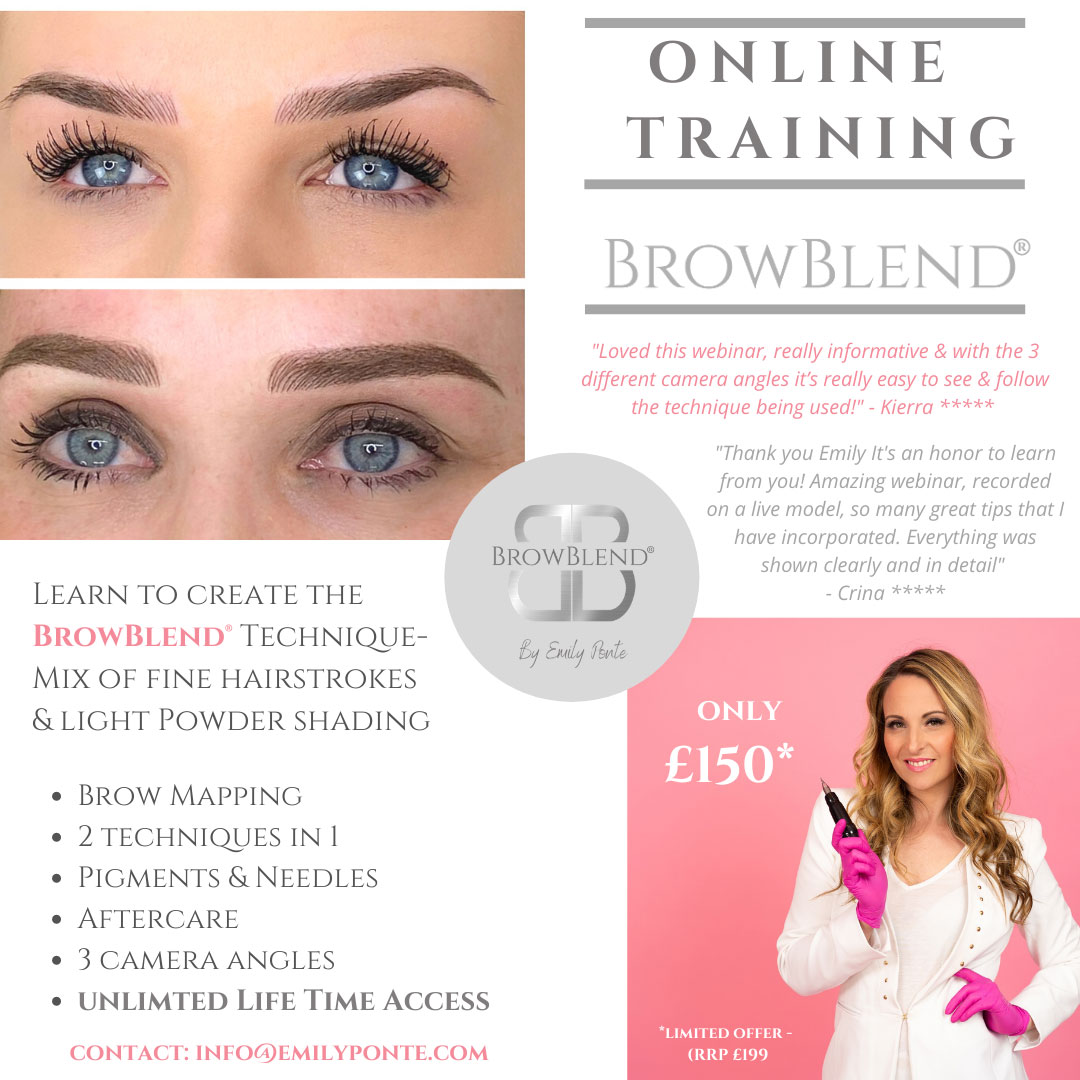 BrowBlend® Combination Brow Webinar
This online training webinar is for qualified artists, looking to advance their brow skills from the comfort of their home.
For more information or to purchase click here:
This is a Step-by-Step Brow Mapping Webinar which is perfect for anyone in the PMU or beauty industry. If you provide brow services to your clients, like HD Brows or makeup, this is a great webinar to teach you how to create the perfect brow shape for your client.
Step-by-Step guidance
Showing different techniques of using string, sticky rulers & callipers
Perfect for PMU & Brow/Makeup Artists
Unlimited Lifetime Access
Click link below to purchase:
https://emilypontewebinar-ca9c.thinkific.com/courses/brow-mapping-webinar
"Although completing my qualifications about 18 months ago I am only new to the industry working only a few months. I absolutely loved this course for new hints, tips and tricks and can't wait to try my next set of brow strokes"
"I am already a level 4 in Micropigmentation but haven't practiced for a while due to being too busy with other treatments in my clinic. I wanted to pick up new techniques from other practitioners. This course is very informative and well planned. Emily has answered all my questions asked and sent me all links for products used. I would certainly recommend this course to anyone."
"Loved this webinar, really informative and with the 3 different camera angles it's really easy to see and follow the technique being used! I normally prefer one to one training as it's more personalised but Emily has been amazing at replying to any follow up questions I've had so feel confident and ready to put this in to practice." 
"Thank you Emily for this great opportunity it's an honor to learn from you! Amazing webinar recorded on a live model, so many great tips that I have incorporated. Everything was shown clearly and in detail. Highly recommend!"
"I recently took a advanced online course and it's helped me gain confidence and new skills. Really happy with the course and you get lifetime access. Emily is really thorough with feedback. I would recommend this course 100%."
refresh my memory on any part I wish. She was clear, concise and very knowledgeable. I have enjoyed putting what I learnt into practice and have created some beautiful brows! Thank you Emily."
"I absolutely loved Emily's brow webinar! She is exceptionally skilled and detailed. I also purchased the suggested needles and they are a game changer! Thank you!"
"I have taken 2 online courses with Emily now. 1st the brow mapping and now the BrowBlend. i've enjoyed both, so much info and love how close the camera gets so i feel like i'm standing next to you. i cannot wait to try out my new skills. Thank you so much!"
"I've been lucky enough to watch Emily's brow mapping video today. It's filmed beautifully, explained perfectly and mapped in a way that is simple and logical and just great for any artist looking to learn or search for different mapping methods without all the messing about with a million tools.If this is a taste of the full training, it's going to be invaluable!"